Personalized Luxe Playtime Gift Set
Welcome to Moonkie, where we believe that every child's playtime should be filled with fun and surprises. Our brand new Playtime Gift Set is the perfect present for any special occasion, whether it's a baby shower, birthday, or holiday.
What's included:
UFO Silicone Pulling Toy

Stacking Teething Rings

Stacking Cups (Fine Day)

Koala 2 in 1 Teether (Warm Taupe)

Silicone Phone Press Toy (Muted)

Pacifier Clip

 
Gift Box
Moonkie Gift Box
The suitcase has a beautiful design with a straight angle for standing, a curved angle for appeal, ergonomic leather handles for grip, and metal clasps to secure the suitcase. It can serve as a gift box, storage container, or mini luggage for babies.
Personalized 3D Gift Message Card
Please kindly note that the card is NOT INCLUDED in the gift set. Should you wish to add a personalized card, there are options available.
Moonkie Stacking Cups
These stylish stacking cups come in soft colors with raised numbers and embossed designs. They are perfect for babies' playtime and help promote cognitive and motor skill development. And not just for indoors - they're great for beach or bath play too!
Moonkie Stacking Teething Rings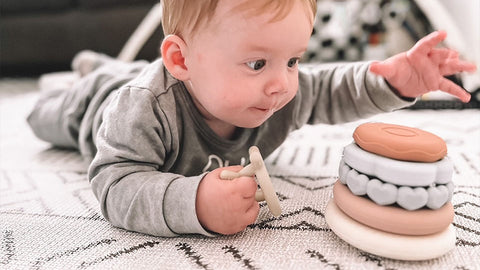 Made from 100% food-grade silicone, our Montessori-inspired stacking rings are safe for babies to explore and chew on during teething. These rings help babies learn colors, sizes, and shapes while developing their concentration and enhancing fine motor skills.
UFO Pulling Toy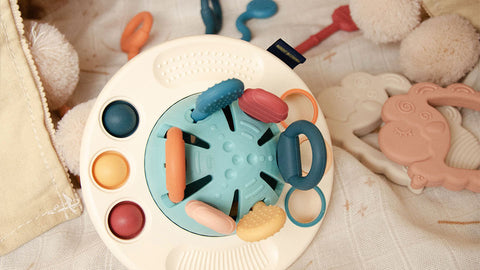 This colorful UFO-inspired toy has six food-grade pulling strings for babies' oral needs, along with three squeeze bubbles and a circular slider to engage their curiosity and improve finger dexterity.
Silicone Phone Press Toy
The educational toy made from food-grade silicone, inspired by modern phones, promotes babies' curiosity and relieves their anxiety with popper bubbles. Raised numbers on the surface enhance babies' tactile learning and numerical recognition, while pressing silicone buttons improves their fine motor skills.
Koala 2-in-1 Teether
Made of food-grade silicone, the teething toy is inspired by a koala, and includes a soft-bristled toothbrush. Its round, soft shape prevents baby gagging while offering a gentle, soothing gum massage to reduce discomfort and fussiness.
Choose Moonkie for both educational and enjoyable playtime that delivers delight and wonder to your child.  
*Kindly Remind: Due to the extra time for name engraving, personalized products are expected to be delivered within 8-15 business days. If purchasing as a gift, please allow ample time for delivery. Except for quality concerns, personalized products are non-returnable since they are tailored specifically for you. Thank you for your understanding. 
We are proud to offer free worldwide shipping for orders over $69.
Please note, due to shipping worldwide, our shipping times vary. Your location's shipping time will be displayed at checkout.
Our average worldwide shipping time is 7-20 days.
Are these products safe to use?
Our main focus is always safety for our little ones. All our products are made of FDA approved, food-grade silicone. Free of BPA's, PVC's, phthalates, lead and cadmium.

How Long is Quality Warranty?
For 30 Days.
2,640,000 Happy Little Customers
Why Choose Moonkie?
Moonkie Research Center partners with pediatricians, midwives, ergonomists, doulas, and parents.
Countless experiments in our dedicated lab enable us to bring you the safest and most considerate baby essentials.
Unlock The Ultimate Power of Moonkie
Made to last.
One-Size fits all.
Anti-Stain & Waterproof.
100% Free of BPA & PVC.
Dishwasher & Microwave Safe.