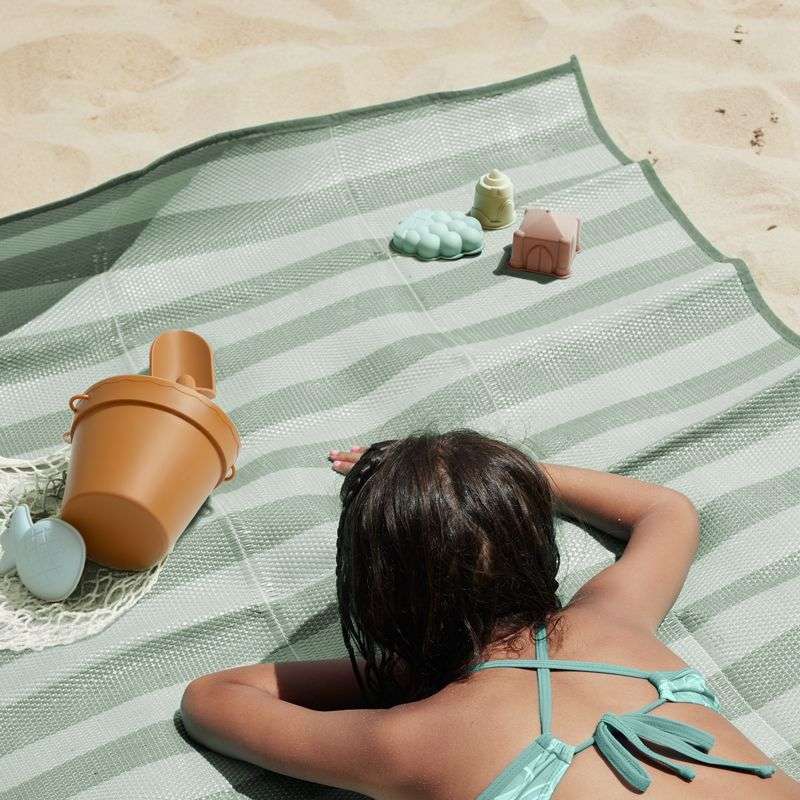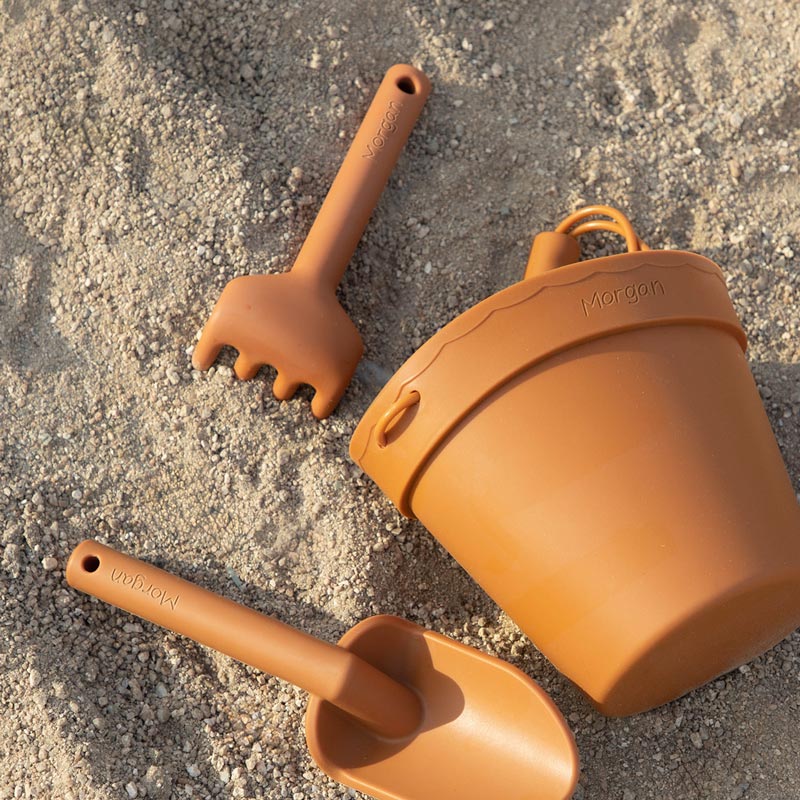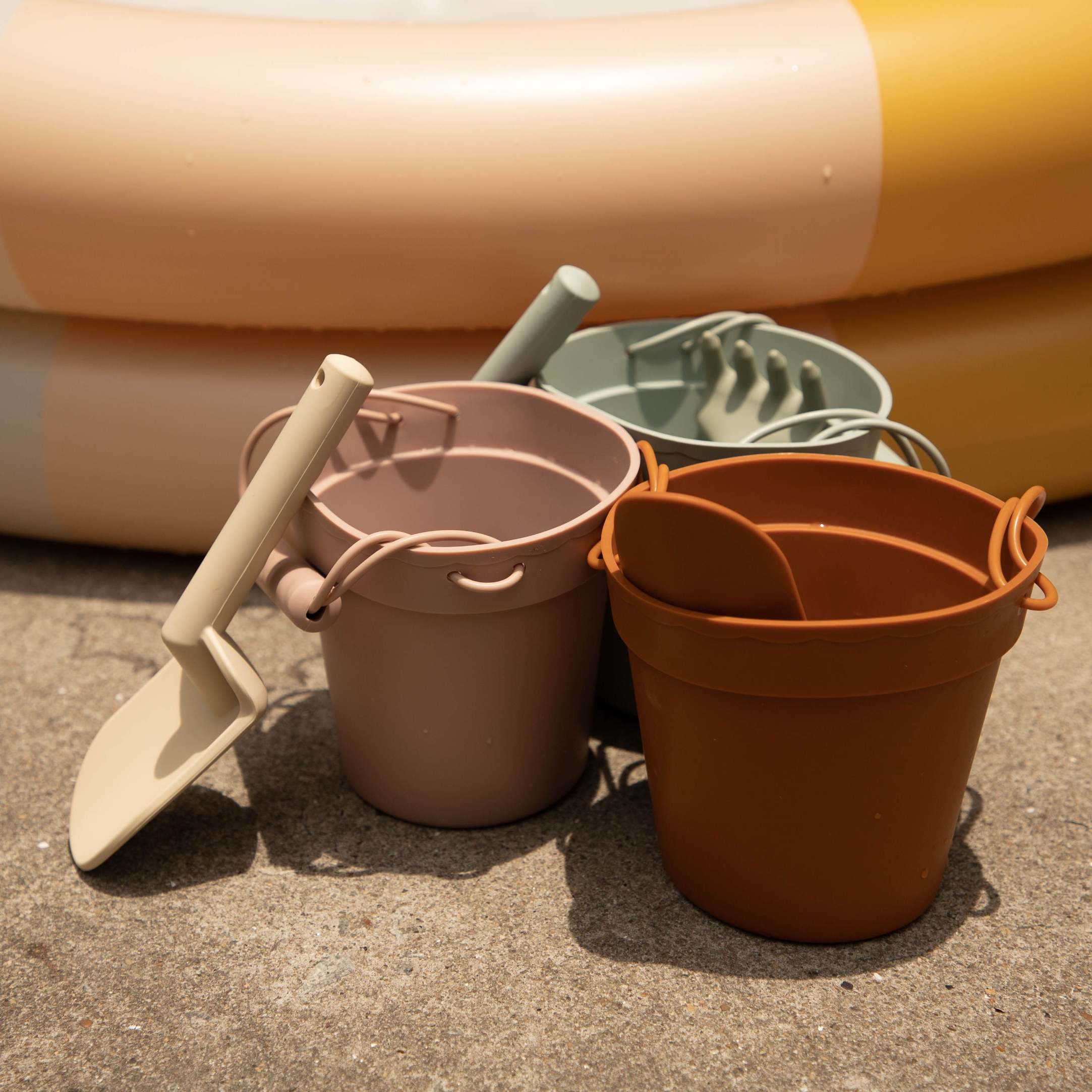 Personalized Silicone Beach Toy Set (Clay)
Whether you're building a sandcastle or digging for hidden treasure, Moonkie's beach toy set is a must-have for your little adventurers. This set is made from durable and foldable silicone so it's easy to pack and great for traveling. What's more, our beach toys are 100% free from BPA, PVC, and phthalates.
Designed for Travel
These travel beach toys are made to roll up, fold and go everywhere with you. They can easily fit in your bag, backpack, or case.
Personalizable with Name
Personalize our beach toy set with your little one's name on the bucket, rake, and shovel to make it even more special!
Amaze Every Recipient
Featuring unique prints, ergonomic leather handles for grip, and metal clasps to secure the suitcase, our breathtakingly delicate gift box is sure to impress.
Personalized 3D Gift Message Card
Please kindly note that the card is NOT INCLUDED in the gift set. Should you wish to add a personalized card, there are options available.
Safe and Money-Saving
Made with Moonkie's ultra-durable and unbreakable silicone, it's never going to break! No more broken plastic beach toys that need to spend extra money to replace them or may hurt your little ones' hands.
Eco-Friendly and Non-Toxic
Our reusable and biodegradable silicone material is a creative alternative to traditional plastic toys to reduce plastic waste and protect our environment. What's more, our beach toy set is BPA, Phthalate & Lead-Free, and safe for your little ones.
Multifunctional Mesh Beach Bag
You can use this washable and reusable cotton mesh bag for travel, shopping, and fruit storage...
The only difference between the 'Luxe Box Gift Set' and the 'Standard Box Gift Set' is the packaging. Both have the same contents, but the Luxe box has a more elegant design, making it more suitable for gifting.
*Kindly Remind: Due to the extra time for name engraving, personalized products are expected to be delivered within 10-15 business days. If purchasing as a gift, please allow ample time for delivery. Except for quality concerns, personalized products are non-returnable since they are tailored specifically for you. Thank you for your understanding.
We are proud to offer free worldwide shipping for orders over $75.
Please note, due to shipping worldwide, our shipping times vary. Your location's shipping time will be displayed at checkout.
Our average worldwide shipping time is 7-20 days.
Are these products safe to use?
Our main focus is always safety for our little ones. All our products are made of FDA approved, food-grade silicone. Free of BPA's, PVC's, phthalates, lead and cadmium.

How Long is Quality Warranty?
For 30 Days.
2,640,000 Happy Little Customers
Why Choose Moonkie?
Moonkie Research Center partners with pediatricians, midwives, ergonomists, doulas, and parents.
Countless experiments in our dedicated lab enable us to bring you the safest and most considerate baby essentials.
Unlock The Ultimate Power of Moonkie
Made to last.
One-Size fits all.
Anti-Stain & Waterproof.
100% Free of BPA & PVC.
Dishwasher & Microwave Safe.